Welcome from Our Founders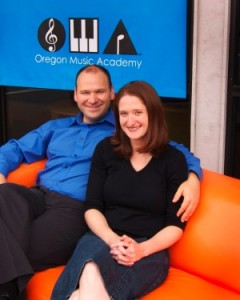 Congratulations! You've taken the first step on an exciting journey. Music is a path that leads to a lifetime of enjoyment and inspiration. Whether you are a beginner or an intermediate student looking for something more, the Oregon Music Academy is a great place to start.
Oregon Music Academy got its start nearly a decade ago when Matthew and I started teaching out of local schools, churches, and our home, a 100 year old one room schoolhouse.
There is no telling where music can take you or how it can transform your life. We speak from experience. I grew up on a farm in rural Indiana and was the oldest of five girls. Matthew's single mom was a public school teacher who took on a second job to support 3 kids. Music has taken us around the world. To understand how central music is to our lives, Matthew proposed to me when we were traveling on an orchestra tour in Europe.
The true gift of music is how we have seen it positively impact the lives of our students:
Music has helped our students with ADD and learning disabilities to accomplish things they never thought were possible.
Music has made the dream of higher education a reality through scholarships and improved academic performance.
Music has brought comfort to a 98 year old student as he neared the end of life's path.
We have as many stories as we do students. We continue to pour our heart and soul into OMA because it is such a thrill to see our students growing as musicians and individuals.
Our students and their families tell us that OMA is a very special place. We absolutely agree and we can't wait for you to experience the heart of inspiration for yourself!
Yours in Harmony,
Renee & Matthew Dolphin
Founders of Oregon Music Academy