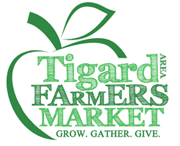 Since 1993, the Tigard Farmers Market has been bringing fresh, locally produced fruits, flowers, vegetables and crafts to the Tigard, Oregon community. Each Week the Tigard Farmers Market focuses on bringing farmers, community, and non-profits together. Farmers grow local produce, plants, and flowers; Tigard Community members gather together to buy these products; and non-profits are featured each week so that we all have an opportunity to give back to our community. You'll find a wide variety of local Tigard area businesses and vendors as well as live music performances.
The Market's tag line is: GROW. GATHER. GIVE. It's winning combination and a great way to get connected with your local community and local farmers. The Tigard Farmers Market is operated by the Tigard Chamber of Commerce. As a member of the Tigard Chamber of Commerce, Oregon Music Academy is proud to support this community gathering place.
Tigard Farmers Market Hours and Location
Every Sunday May-Oct 9am – 2pm
Corner of 99W and 217
11831 SW Pacific Hwy, Tigard, OR 97223
Connect Online
www.tigardfarmersmarket.org
Tigard Farmers Market on Facebook
Tigard Farmers Market on Twitter
Market Vendors
Alex Farm
Art by Erin Mathews
Asian Garden
Baggenstos Farms
Bags and Things by Marie
Big B Farm, Inc.
Bling By Beth
Bruno's Biscuits
Bumble Bee Stichery
C&K FlowerGarden
Celilo Gardens
Chef's Gourmet BBQ
Columbia River Fish Co. Treaty 1855
Design Image Arts
Faulkner Foods, LLC
Flutterby Bakery
Friends of Family Farmers
Graceful Blades
Grandeur Wood
Happy Gardens Nursery, LLC
Healthy Dog treats
Heavenly Candy Company
Herb's Daughter Custom Soaps
Iko Farms
Imagine Nursery
Jackies Flowers' Garden Whimsies
Janna's Flowers
Jeff Soy Candle
Joe Bennett Glass Designs
Joyous Blossoms Iris Gardens
Ken Makes wood art
Kimos Dips
Kimberly's Garden Nursery
Smirk Photography
Kupfer-Sexton Orchards
La Pizza Pela
La Provence Bakery
Lasala Sweets Bakery
Latitudes of Lavender
Liepold Farms
Liquid Sunshine
Loibl Farm
Magnetic Jewelry by Shirley Morris
Mama's Mini's
Martinez Family Farms
M-C Farms
Mocha Roma's Coffee Co
Moni's Backstube
Mountain Man Nut and Fruit
Mountainside Herbal Nursery
The Music Project
Northwest Cedar Furniture
Oolah CrAFT
Oregon Crepe company
P and L Creations
Pacific Pie
Parsons Farms II
Pathfinder Plants
Pepper Friendly Foods Inc
Petal Heads
Pop a Bak Baklava
Portland bagel Co
PM Farms
Rainbow Nursery
Red Hat Melons
River Run Herbal Essentials
Roberta Palmer
Rock With Us
Sew Fine
Steele Plants
Stonewall Banks Seafood
Susan Meyer Nursery
Sweet Brier Farms
Sweet 'Ole Larry's Kettlecorn
The Honey Pit
The Olive Branch
The Tamale House
The Tea Towel Kitchen
Tigard Pets
Three White Stars
Two Shakes and a Shimmy
Typhoon Resturants
Unger Farms, Inc
Vang's Garden
Victorias Lavendar
Vitality Enterprises
Winona Farms
Ychristi Designs
Also in Tigard: Music Lessons
Inspired by the music you heard at the Tigard Farmers Market? The Oregon Music Academy offers piano lessons and guitar lessons in Tigard as well as classes and lessons on a wide variety of other instruments. Check out our Tigard music lessons page for more info.